There is a lot of debate over some rappers being boring, and, more specifically, about which rappers are overly repetitive, tedious, or monotonous in their melodies. In order to get to the bottom of this question, I did a statistical study of rap lyrics transcription databases that I found online. The chart below measures what rappers in those databases repeat the same words the most often. (This chart is actually an index, a statistical concept that gets its own in-depth explanation on Wikipedia here.) As the statistician who generated this data for me told me: "'Repetitiveness' is an algorithm I hand rolled to use on this data. It's similar to vocabulary density, but uses ngrams instead of individual words. I think it gives a really meaningful metric. I got the idea when I saw this meme comparing Beyonce to Freddie Mercury."
I used Excel to create the visualization. The data analyst got the raw material from crawling popular lyrics websites. To start, here is the data on how many words and how many songs the data was compiled for each artist, so you can decide how big the sample size should be: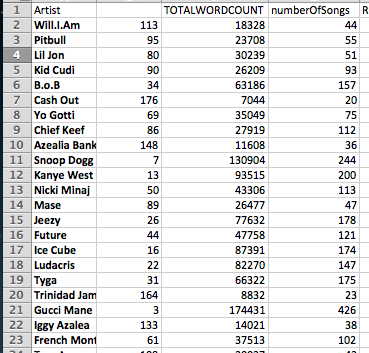 And, without further ado…the 23 most repetitive rappers in the game today! Here you go…and if you like these ones, you'd also probably enjoy my 2 most popular articles. One of them is on Kendrick Lamar's "good kid, m.A.A.d city" album here, and the other one has the title "Is Nas The Best Technical Rapper Ever…By Far?," which you can read here.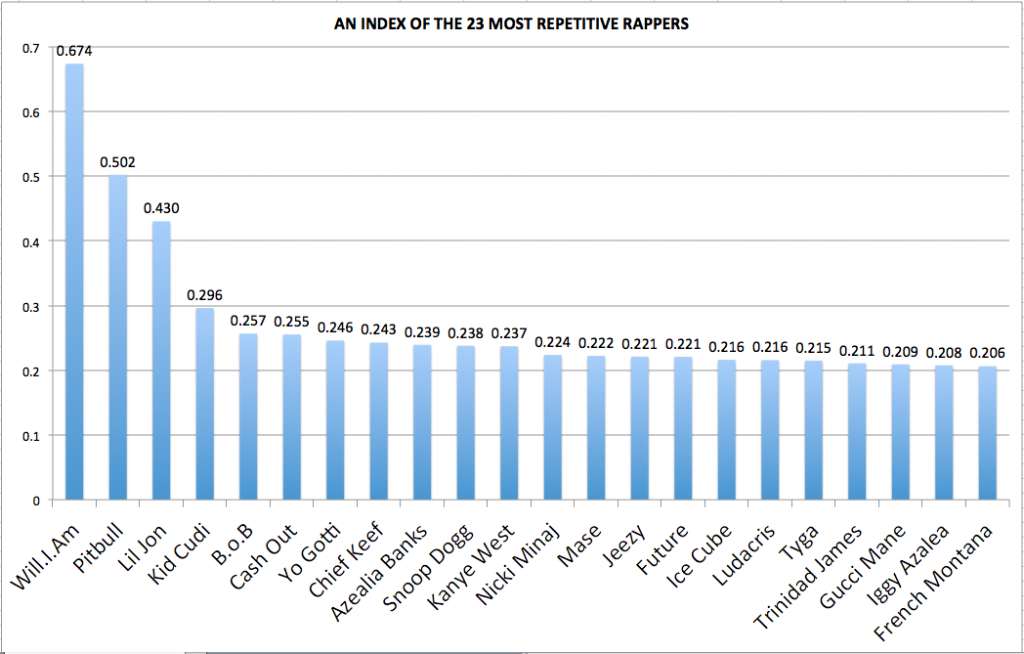 Perhaps not surprisingly, I haven't analyzed many of the rappers on this list. Once exception is Snoop Dogg, though, and another is Kanye West. You can read my analysis of Snoop Dogg here, or my one on Kanye West here.
Thanks guys!
-Martin
**I also want to thank everyone who helped this article spread. It went on a worldwide tour of my hometown HipHopDX (thanks to Danielle Harling), as well as XXL, BET, Pigeons and Planes (thanks to Graham Corrigan), Complex (thanks to Justin Davis), and even a translation into French (thanks to French Montana.) If you like these articles, and want to see more, feel free to like the Composer's Corner facebook page.